Welcome to Vermont Woman Online
Vermont Woman is a forum for news, issues, features, arts and entertainment from the perspective, experience, and voices of Vermont women. Vermont Woman is a bi-monthly newspaper published in South Hero, Vermont.
This website is an extension of the print publication, but not all, articles are posted here. We encourage our readers to contact us, either here on the website or at our Facebook page.
The Inspiring Life of Dr. Julie Spaniel
by Susan Z. Ritz
For Dr. Julie Spaniel, DDS, dentistry is about a whole lot more than cleaning teeth and casting crowns. Spaniel, who has owned her own practice, Sprucewood Dental in South Burlington, for 22 years, says, "It's not about teeth, it's about humanity, it's about people." That attitude has kept her Vermont practice thriving and motivated her to volunteer in Ghana, Honduras, Nicaragua, and here in Vermont with the growing refugee community. "And," she adds, "for women, dentistry is a wonderful field." For Spaniel and the 15 women who make up her practice, the field offers financial rewards along with the freedom and flexibility to raise a family and follow dreams.
Spaniel, 51, a Michigan native, became a dentist because she viewed it as a means to combine her interests in health care, science, and art. "All dentists are artists," she explains. "We create smiles with our hands. I actually build teeth." Back in the '80s, however, she was one of only two women pursuing dentistry at the University of North Carolina Chapel Hill. "Women have gotten a bad rap. They often counted as only half a dentist because they're going to go off and have kids." Spaniel laughs at that notion. She raised four children, now in their teens and twenties, while working full-time. "I would bring them to the office in their car seats. Sometimes I'd get a babysitter to help." Many of her employees are raising families now and take advantage of the job-sharing options offered at Sprucewood.
Natalie Meyer: R.O.C. Star on a Mission
by Michelle A.L. Singer
Natalie Meyer, a 17-year-old recent graduate of Champlain Valley Union High School, is on a mission to connect young people with the world through international service.
Meyer is the founder and executive director of Refugee Outreach Club (R.O.C.), an organization she began after a three-week trip to Ghana through Global Leadership Adventures when she was just 15 years old. Inspired by her time working with students there teaching English, she decided to continue the same kind of outreach back at Champlain Valley Union High School.
At first, she wanted to start a chapter of Acumen, an organization that tackles poverty through microfinance lending. When Acumen found out she was 15, the organization suggested she start a book club. Instead, she started R.O.C.
"I never thought we'd have a full blown 501(c)(3) with a board of directors that have traveled to all different parts of the world and done incredible things, and I never thought it would be possible to start all these new programs," she says. Since R.O.C. started two years ago, the club has expanded, with chapters in four other high schools (South Burlington, Mount Mansfield, Rice Memorial, and Stowe High School) and Middlebury College. In 2017, Meyer made a second trip to Ghana and launched a cultural exchange and international health program.
Experiencing Refugee Life in Greece
by Elayne Clift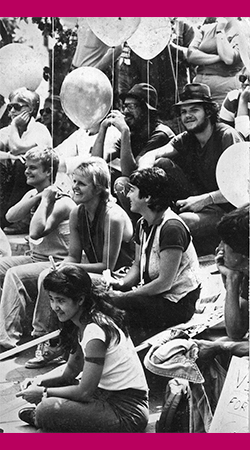 The call for volunteers posted to http://greecevol.info had my name written all over it. "Doulas Wanted," it said. I had long wanted to go to Greece to do what I could for refugees there, and my hope was to bring to women refugees my experience as a doula and women's health advocate. So I contacted the woman in Montreal, also a doula, who had posted the call on behalf of Birth Companions International (BCI), a small organization she had recently founded. Within a matter of months, I was in Thessaloniki, Greece's second largest city, and Polycastro, a small town north of the city where the Nea Kavala Refugee Camp is run by the UN High Commission for Refugees (UNHCR).
Luckily, I had enticed a physician friend, Brigitte Dunais from France with whom I'd volunteered in Somaliland in 2011, to join me. Her language skills include fluent Greek, since she lives there part-time, and her medical expertise was bound to be useful. Looking back now, I can't imagine going there without a companion.
I arrived two days ahead of Brigitte and was blessed with an Airbnb host, Panos, who proved to be a lifesaver. On my first day in the complex city, he agreed to help me find the apartment of the first pregnant woman I was to visit. Without him, I never would have found the place since Google maps were inaccurate and both paper maps and street names were written in miniscule Greek.
GreenTARA Space: A New Home for Art and Community
by Cynthia Close
The warm spring sun was low in the sky on the late afternoon of May 12, 2017, as Diane Gayer stood on the front deck of GreenTARA Space, a gallery housed in a renovated church. She was busy welcoming guests to the opening exhibition of this newest addition to northern Vermont's art and culture scene, located on Route 2 in Grand Isle. The atmosphere was celebratory at this long-anticipated event: over the course of the past year, word had gotten out among local artists that this former Catholic church would soon be transformed into a home for art, contemplation, and community.
As the guests admired the elegant and dramatic photographs of icebergs and receding glaciers by Sarah Holbrook and the soapstone carvings depicting Inuit life by Emil Socher, they also took note of the sensitively handled renovation of the interior space of the church. A trained architect, Gayer was the driving force behind this project from the very beginning, and she will be the curatorial voice and programmer for the gallery in the foreseeable future.
Renovating Community
While Gayer has had a very active career over the past 30 years in Vermont as a teacher, adjunct lecturer at UVM, and architect in the Vermont Design Institute, she is also a citizen of the world. Her father was a diplomat. She attended French-speaking schools and was raised in Geneva until the age of 14. Unsurprisingly, she was an avid skier, having access to the mountains first in Switzerland then in Colorado, where she graduated from the University of Colorado, Boulder, in 1975 with a BA in German languages and later in 1979 with a master's in architecture from the University of Colorado, Denver. Gayer has received numerous grants on behalf of the Vermont Design Institute from the American Architectural Foundation Accent on Architecture awards program and ongoing support from the Vermont Arts Council.
Vermont Faces Challenges Funding Watershed Cleanup, Meeting Energy Goals
by K.C. Whiteley
Vermont has struggled for years to deal with increasing amounts of phosphorus pollution levels in Lake Champlain and other watersheds. Ordered by the EPA to meet reduced limits, the Scott administration supported a proposal by State Treasurer Beth Pearce to come up with two years of bridge funding (about $25 million for each year) to begin to address this chronic issue that affects water quality, not just in Lake Champlain but in the Lake Memphremagog and the Connecticut River watersheds as well. Together, these three watersheds cover about 94 percent of the state.
Because of Gov. Scott's no new taxes or fees pledge, Pearce's long-term plan, which called for a per parcel fee, became a short-term fix, shifting funds from the capital bill, bonds and extending the property transfer tax surcharge. As Robb Kidd, manager of the Conservation Program for the Vermont chapter of the Sierra Club, notes, this short-term solution ultimately does not address the problem: "the hard work of establishing a long-term funding was not yet established, for the Governor opposed all plans to establish any new taxes or fees."
Cleanup is expected to take 20 years. According to Pearce's estimates, Vermont will need to find about $35 million a year for the next 20 years to meet our phosphorus reduction goals. Current legislation and proposed funding leaves unanswered the question of how to fund lake cleanup in the long term.
2017 Session Wrap-Up: Win Some, Lose Some
by Rickey Gard Diamond
So what should Vermont women take away from this year's state legislative session? First of all that women played key roles, with new leaders like House Speaker Mitzi Johnson (D-South Hero), House Majority Leader Jill Krowinski (D-Burlington), and Senate Majority Leader Becca Balint (D-Windham). Female leadership is fairly well represented in the General Assembly, with eight House committees headed by women and five in the Senate. Experienced committee chairs like Sen. Ann Cumming (D-Washington) and Rep. Helen Head (D-South Burlington) set a steady pace this legislative session.
The Wins
The legislature passed a bill (Act 21) newly protecting pregnant workers' rights, which Gov. Phil Scott signed into law. The act gives pregnant women the same rights and accommodations in the workplace as people with disabilities.
Meanwhile Sen. Jane Kitchell (D-Caledonia) and House Appropriations chair Kitty Toll (D-Caledonia-Washington) crunched and recrunched budget numbers. Their committees rather ingeniously collaborated to shift funds and find efficiencies that promise benefit for a good many women, like higher education funding and increased salaries for mental health care nurses. Their budget increased childcare funding, a measure important both to childcare centers largely owned by women, and important to women workers who need them. It also added money for rural economic development, including for value-added microbusiness of the kind women often start.
Publisher's Message : A Reality Nightmare
by Sue Gillis
He knocked hard on her door late in the day. Ruthie opened to an unknown man who said, "Your brother sent me to take you to a doctor's appointment." She did not know of any appointment, but because he mentioned her brother by name, she grabbed her purse, got in his car, and was driven straight to a long-term memory care facility 50 miles from her home. He left her there, promising to pick her up later.
She was seen by a doctor and left sitting in a chair in a room with a bed. There, Ruthie waited, expecting to go home. No one came. Alone and horrified, she was left in this facility for 18 days with nothing but the clothes on her back. That night and for the next two weeks, Ruthie frantically called her lifelong and most trusted friend (who is also a close friend of mine) in Vermont to help.

Vermont Woman Newspaper
P.O. Box 490 | 307 Route 2 | South Hero, VT 05486
802-372-3201